Shaun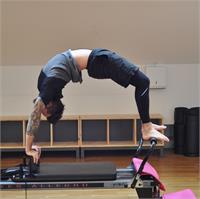 Shaun's University Qualification in Sports Science, experience as a Strength and Conditioning coach and great smile, make him the perfect fit to the Absolute team.
His classes are challenging and technically brilliant making sure you will be pushed to your best every time, yet staying safe and in control.
Shaun instructs the following:
Advanced
This is for the experienced individuals who have a a very good understanding of the breathing, postures and movement as well as being very comfortable with the reformer and it's workings. This level of class is designed to produce very fit and strong individuals. It is not a place for beginners.




This level of class requires a good level of strength, fitness and understanding of the basics that are taught in the beginners classes. Using the tools that the machine provides, we can accommodate a very wide range of abilities in these classes and continually challenge you as you improve. These classes are designed to be challenging and to overload your body causing it to adapt and transform.




Our Beginners classes place a heavy focus and importance on the basics of breathing, posture and the essential movements as well as introducing you to the reformer machine. These classes are designed to help you feel comfortable with the reformer and the studio environment. It is very wise to take the time to learn these basics well, giving you a foundation of knowledge, before moving up. Even if you have done pilates before we highly recommend you attend a Beginners class for your first experience of Absolute.