Mark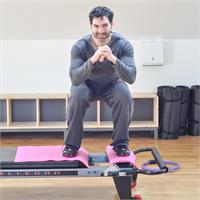 Mark is a fully qualified physiotherapist, personal trainer and strength and conditioning coach. He has a strong sporting background having played rugby for Munster and Ireland at various levels. Mark also holds a black belt in TaeKwon Do. Marks classes are challenging to say the least. His aim is to work together with you to get you in the best shape possible whilst at all times keeping a smile on your face.
Mark instructs the following:
Absolute High Intensity Interval Training. Designed to burn calories and increase fitness. You'll love it!




This level of class requires a good level of strength, fitness and understanding of the basics that are taught in the beginners classes. Using the tools that the machine provides, we can accommodate a very wide range of abilities in these classes and continually challenge you as you improve. These classes are designed to be challenging and to overload your body causing it to adapt and transform.