Maria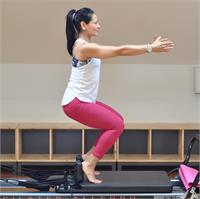 "My fitness career started as a hobby teaching spinning in Venezuela, my home country, while I was at university studying Law, giving to me the possibility to stay fit, healthy and releasing all the stress from many hours of studying. While I worked as a lawyer I kept teaching spinning being more than aware of the pressures of working in a busy firm with little time for health and personal life.
I moved to London where I continued my studies in Immigration Law as well as becoming a Personal Trainer and STOTT Reformer Pilates Instructor (my passion) so I left my job to become a full time trainer. I am a Lawyer from heart & Trainer from soul.
I am very interested in health, beauty and education, always adding new qualifications, doing courses and workshops, also I love to do classes in different studios so I can steal in a good way exercises and ideas to incorporate in my sessions"
Maria instructs the following:
This level of class requires a good level of strength, fitness and understanding of the basics that are taught in the beginners classes. Using the tools that the machine provides, we can accommodate a very wide range of abilities in these classes and continually challenge you as you improve. These classes are designed to be challenging and to overload your body causing it to adapt and transform.




Our Beginners classes place a heavy focus and importance on the basics of breathing, posture and the essential movements as well as introducing you to the reformer machine. These classes are designed to help you feel comfortable with the reformer and the studio environment. It is very wise to take the time to learn these basics well, giving you a foundation of knowledge, before moving up. Even if you have done pilates before we highly recommend you attend a Beginners class for your first experience of Absolute.