Charlotte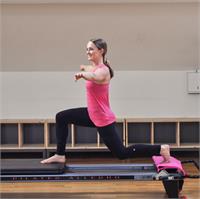 Charlotte Debattista Bio
A singer and dancer since the age of nine when her passion for music was ignited. She originally trained in Malta, where she is from, before moving to London to pursue a career in Musical Theatre. She completed her training at the prestigious Italia Conti Academy of Performing Arts, and has since performed in venues such as the Royal Albert Hall and various theatres including the West End.
Charlotte's dance background introduced her to the wonderful world of Pilates; having a passion for health and fitness, she trained with STOTT in both Mat and Reformer Pilates. She has a keen interest in Dynamic Pilates and helps clients work towards an equlibirum between stability, mobility and strength.
She loves teaching and providing individual attention to each client so they can get the most from their workout. Charlotte's workout aims to articulate the spine, challenge the core and improve the client's overall fitness. Pilates is intelligent exercise with profound results.
Charlotte instructs the following:
This level of class requires a good level of strength, fitness and understanding of the basics that are taught in the beginners classes. Using the tools that the machine provides, we can accommodate a very wide range of abilities in these classes and continually challenge you as you improve. These classes are designed to be challenging and to overload your body causing it to adapt and transform.




Our Beginners classes place a heavy focus and importance on the basics of breathing, posture and the essential movements as well as introducing you to the reformer machine. These classes are designed to help you feel comfortable with the reformer and the studio environment. It is very wise to take the time to learn these basics well, giving you a foundation of knowledge, before moving up. Even if you have done pilates before we highly recommend you attend a Beginners class for your first experience of Absolute.




Advanced
This is for the experienced individuals who have a a very good understanding of the breathing, postures and movement as well as being very comfortable with the reformer and it's workings. This level of class is designed to produce very fit and strong individuals. It is not a place for beginners.