Emma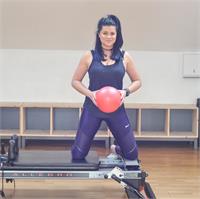 Emma has been in the health and fitness industry for over 4 years, her favourite tool without a doubt is a Reformer which she studied in Australia.
Emma has used Pilates Reformer throughout her career to help several of her clients recover from all types of injuries to the neck, spine and hips all the way to improving personal bests in the gym with heavy lifts such as olympic lifting.
Emma has also worked closely throughout the years with professional golfers, tennis players and footballers. She has tailored each individuals sessions on the Reformer based on their goals, strengths and weaknesses and has proven results from everyone she has worked with.
You will find Emma likes to focus on technique, posture, and core activation in her classes. She also believes breathing is important too and loves to give everyone a challenging workout no matter what level of fitness or experience.
Emma is also a Personal Trainer and a Precision Nutrition coach. Her training style is HIIT with her favourite style being Tabata (20 seconds work 10 seconds rest) and also trains kickboxing and strength & conditioning. She likes to push people hard, make them sweat (alot), and have fun while doing so.
Emma instructs the following:
This level of class requires a good level of strength, fitness and understanding of the basics that are taught in the beginners classes. Using the tools that the machine provides, we can accommodate a very wide range of abilities in these classes and continually challenge you as you improve. These classes are designed to be challenging and to overload your body causing it to adapt and transform.




Our Beginners classes place a heavy focus and importance on the basics of breathing, posture and the essential movements as well as introducing you to the reformer machine. These classes are designed to help you feel comfortable with the reformer and the studio environment. It is very wise to take the time to learn these basics well, giving you a foundation of knowledge, before moving up. Even if you have done pilates before we highly recommend you attend a Beginners class for your first experience of Absolute.